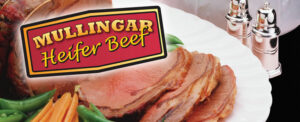 For generations Mullingar Heifer Beef has been produced and processed in the Mullingar area of Co Westmeath .World renowned as "Beef to the heels like a Mullingar Heifer". Now our company is bringing this tradition of, attention to detail, to the production of quality Mullingar Heifer Beef. Our freezer supplies are delivered direct to the family home or catering establishment.
The benefits of Mullingar Heifer Beef
Our premium high end beef product is sourced and traced directly from farms in the Mullingar area of Co Westmeath to meet our Mullingar Heifer Beef specification.
The heifers we process are breeds traditional to the area e.g. Aberdeen Angus and Hereford. These breeds have been selected over the years as suitable to the landscape and herbage to provide consistent quality and flavour to our customers.
We achieve our exceptional quality through attention to detail at each stage of our process.
All our beef from young heifers is hung on the bone and dry aged in the traditional way for the optimum number of days and this artisan approach ensures the quality, tenderness, juiciness and flavour of our Mullingar Heifer Beef.
Our local quality product is similar to the quality beef available from good local butchers and is provided as a value alternative to the supermarket supply.
Contact Details
Mullingar Heifer Beef
Nolagh,
Ballinalack,
Mullingar,
Co. Westmeath.
Phone: 086 2642299
Email: info@mullingarheiferbeef.com
Website: www.mullingarheiferbeef.com