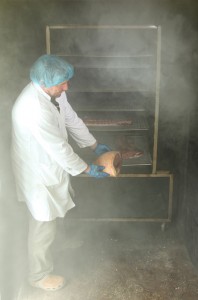 For ten years now John Rogan has been producing the finest smoked foods, having refined the art of 'smoking' and by building his own smokehouse at Corry, in Rathowen he can guarantee product quality and taste. Originally John started his business by smoking eel, salmon, trout and mackerel although he ceased fishing eel some time ago. While now his renowned smoked fish products are still available he has in recent times concentrated on smoking bacon and sausages, for which he uses a selection of smoking flavours including apple smoked and whiskey smoked.
Indeed his prowess, product quality and taste resulted in being awarded a Great Taste Award 2010-2011 for his smoked bacon.
John is a member of Westmeath Food Network and recently has returned to his original first love of direct interaction with his consumers and attends local, regional and national festivals and food markets that include Sheridan's Market, Carnaross, Co. Meath, and Farmleigh at the Phoenix Park. You will also find his product range in Foxes Fruit & Veg Mullingar, Sextons Gala, Rathowen or buy direct at Corry, Rathowen.
Apache Pizza Supplier
We're delighted to announce that we are now supplying all outlets of Apache Pizza in Ireland with our oakwood smoked bacon flakes.
Contact Details
Rogans Smokehouse
Corry
Rathowen
Co. Westmeath
Phone: 087 9904707
Email: corrylanesmoked@eircom.net