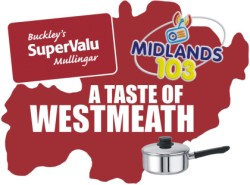 This Sunday 29th May is a date for your diary – SuperValue welcomes you to 'A Taste of Westmeath' in the Mullingar Park Hotel from 12pm – 6pm.
Westmeath has a wide range of top quality food producers and outlets offering the best in local fare. A good representation from the Westmeath Food Network will be at the exhibition including: Lough Owel Organic Farm, Tara Jams, The Lilliput Loaf Company, Coles Home Bakery, The Bakery – Mullingar, Thérèse Gilsenan, Moon Shine Organic Farm, Casa Lara Cooking Experience (Lara Foods), Hanna's Secret, Úisneach Catering, Corrylane Smoked Foods, and An Olivia Chocolate. Find out more about our members on our website.
Come along and sample the best of Westmeath cuisine. Entry is a mere €3 per person.
A Taste of Westmeath
Mullingar Park Hotel
Sunday, May 29th
12pm – 6pm
Entry €3
Download the brochure